Mâcon-Villages "Les Cadoles" (White)
La Côte Mâconnaise
- Chardonnay

Régional

Durée de conservation
1 to 4 years

Température de service
6 to 9° C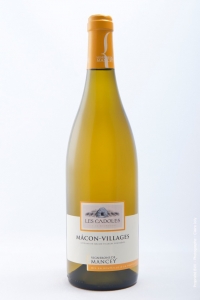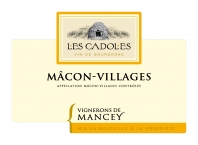 Télécharger le pdf
Send by email
Origine
From slopes surrounding the village of Mancey, in localities (lieux-dits) known as "Les Cras", "Les Roches", and "Les Rotheux".
On the slopes of Tournus and Mancey and elsewhere, you will spy numerous "cadoles", small constructions that served as shelters for the wine growers. Varying in sophistication, their design is quite unique. These "cadoles" are the subject of an ambitious restoration and preservation programme set up by the "Société des Amis des Sciences et des Arts de Tournus" (Friends of the Sciences and Arts of Tournus).
Vinification
The harvesting is carried out partially by hand and partially by machine. The harvested grapes are transported to the press very quickly in order to protect them from oxydation. Pneumatic pressing is carried out with a selection of the juices when they are run off, and the elimination of the juices from the end of the pressing. The must is chilled and placed in a settling tank. After 18-24 hours of settling, the clear juice is drawn off, and the deposits are filtered. Fermentation is carried out at controlled temperature (below 20°C) to preserve the aromas. Bottling takes place in the spring following the harvest, after malo-lactic fermentation is completed.
Notes de dégustation
This white wine has a pale golden hue with a few green tints. The intense aromas of white flowers (acacia and hawthorn) and fruit (mirabelle plums, vineyard peaches, tropical fruit) are characteristic of the grape variety.
In the Mâcon area, we say that a good Mâcon wine "chardonnes" (shows a Chardonnay character). The wine is fresh and lively on entry to the palate, and then shows a sensation of softness and roundness.
Mets d'accompagnements
The Mâcon Villages "Cuvée des Cadoles" will pair well with cold or hot pork meats (offal sausages), as well as fish cooked in butter. Crisp and fresh, it is a lovely match for crustaceans and shellfish: lobsters and mussels in cream sauce.