Bourgogne Hautes Côtes de Beaune (White)
La Côte de Beaune
- Chardonnay

Régional

Durée de conservation
Up to 5 years

Température de service
12°C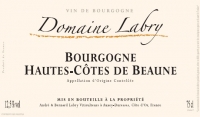 Télécharger le pdf
Send by email
Origine
The Labry Estate currently cultivates 16 ha of vineyards spread over four villages, with production concentrated on two major red wine appellations, Auxey-Duresses and Bourgogne Hautes Côtes de Beaune. These growing areas also yield whites bottled under the same labels.
In the village of Baubigny, the vines run parallel to the Côte de Beaune hillside, at an elevation of roughly 100 meters higher (between 400 and 450 metres). Climatic conditions here are favourable for growing wines, as the south-eastern exposure compensates for altitude-related influences.
The soil contains clays and limestone, with substantial iron and manganese; flat stones of an oolitic limestone composition are distinctly present and the ground slope reaches 20%.
The vines are all propped up by posts for greater sunlight exposure and grass is grown between the vine rows.
Vinification
After pressing, the must ferments in a vat for several weeks, then the wine matures, in contact with lees, within oak barrels. The lees get stirred up until the time of bottling.
Notes de dégustation
The strong personality of these wines is always attenuated by the smoothness of the Chardonnay varietal. Their build exudes both elegance and body.
Mets d'accompagnements
An ideal accompaniment to warm starters, fish and shellfish dishes poached or in cream sauce, cold cuts and fragrant cheeses.