Mâcon-Villages (White)
La Côte Mâconnaise
- Chardonnay

Régional

Durée de conservation
3 to 5 years

Température de service
6 to 9° C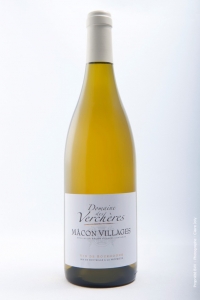 Télécharger le pdf
Send by email
Origine
The Domaine des Verchères has seen several generations of the Dupuis family. André Dupuis, helped by his two sons, Jean-Christophe and Rémi, works a total of about 27 hectares of vineyards spread over the communes of Mancey and Royer. The Mâcon Villages appellation makes up 6.57 hectares of the Domaine's surface area, with parcels located in "En Chavy", "Les Ingrains", "Sur l'Ouche", "Les Verchères" and "En Paillousin" in Royer, and in "Les Cras du Haut" and "Sur les Devants" in Mancey. 90% of the vineyards are planted with the classic variety of Chardonnay and the remaining 10% are planted with Chardonnay Muscaté. The youngest of the vines are aged 15 years and the oldest 37 years. The parcels are "terre blanche" type clay-limestone (covered in small white pebbles) in Royer, and red soils in Mancey. They face southeast at an altitude of about 300m.
Vinification
The pruning method used is the Guyot. On the parcels in Royer, there is grass cover in every second row and the other rows are covered in straw to control erosion. The rest of the domaine's vineyards are covered with straw (mulching). The harvested grapes are transported to the press very quickly in order to prevent oxydation. Pneumatic pressing is carried out with a selection of juices when they are run off and the elimination of the juices from the end of the pressing. The must is chilled and placed in a settling tank. After 18-24 hours of settling, the clear juice is drawn off and the deposits are filtered. Fermentation is carried out at a controlled temperature (below 20°C) to preserve the aromas. Bottling takes place in the spring following the harvest, after malo-lactic fermentation is completed.
Notes de dégustation
Bright, green gold hue. On the nose, the wine is very open and full of white flower scents (acacia, elderberry). The structure on the palate is soft, supple and fruity.
Mets d'accompagnements
Mâcon-Villages pairs perfectly with hot and cold pork meats, particularly different types of sausage. It also makes a nice match for fish, either steamed or cooked in a light cream sauce.