Mâcon (Red)
La Côte Mâconnaise
- Gamay noir with white juice

Régional

Durée de conservation
2 to 5 years

Température de service
15°C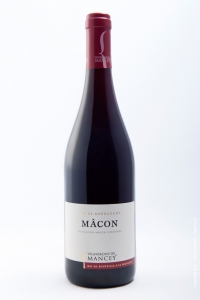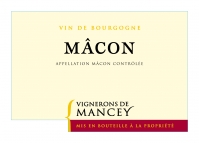 Télécharger le pdf
Send by email
Origine
Located to the very north of the Mâconnais region, the 140 hectares belonging to the 80 Vignerons de Mancey growers are spread over 8 communes in the Mancey area. This geographical and geological location gives us with our distinctive identity and typical character. We have been making wines from the typical grapes of Burgundy since 1929, carrying out a meticulous selection of the best terroirs and seeking to bring out the unique identity of each of these. The vineyards are located on the slopes surrounding Mancey, Vers, Royer and Martailly-Les-Brancion.
Vinification
A proportion of the grapes are harvested by hand. After destemming, the grapes go into vat, where they are cooled and kept in a state of pre-fermentation. During this time the wine will obtain some of its aromas and colour. Fermentation then starts and lasts 5-7 days depending on the constitution of the raw material. During this period, the wines receive special care and attention, and various operations are carried out to promote an exchange between the solid material (the pulp) and the liquid element (the must). After a light pressing, the wine goes into vats where it will be aged, and then bottled in the spring following the harvest.
Notes de dégustation
The blend of grapes from different vineyards multiplies the aromatic nuances and creates a complexity of flavours. The wine is always very fresh on the nose and releases aromas of red fruit (strawberries, raspberries, red currants), along with some mineral and spicy notes. It is crisp, light and fruity on the palate.
Mets d'accompagnements
It will pair well with a pork curry, quiche Lorraine and many pasta dishes. It can be served very lightly chilled (15°C) and, depending on the vintage, it can age for 2 to 5 years.