Mâcon-Mancey "Les Cadoles" (Red)
La Côte Mâconnaise
- Gamay black with white juice

Régional

Durée de conservation
2 to 5 years

Température de service
15°C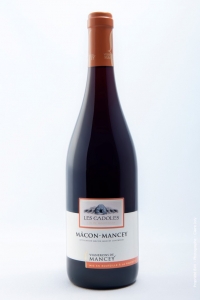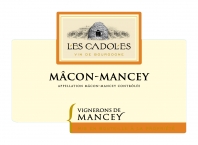 Télécharger le pdf
Send by email
Origine
From slopes surrounding the village of Mancey, in localities (lieux-dits) known as "Les Cras", "Les Roches", and "Les Rotheux".
On the slopes of Tournus and Mancey and elsewhere, you will spy numerous "cadoles", small constructions that served as shelters for the wine growers. Varying in sophistication, their design is quite unique. These "cadoles" are the subject of an ambitious restoration and preservation programme set up by the "Société des Amis des Sciences et des Arts de Tournus" (Friends of the Sciences and Arts of Tournus).
Vinification
A proportion of the grapes are harvested by hand. After destemming, the grapes go into vat, where they are cooled and kept in a state of pre-fermentation. During this time the wine will obtain some of its aromas and colour. Fermentation then starts and lasts 5-7 days depending on the constitution of the raw material. During this period, the wines receive special care and attention, and various operations are carried out to promote an exchange between the solid material (the pulp) and the liquid element (the must). After a light pressing, the wine goes into vats where it will be aged, and then bottled in the spring following the harvest.
Notes de dégustation
The terroirs of Mancey create an interesting character on the nose and palate, usually a combination of red fruit aromas and spicy, peppery notes. These full-bodied wines are more like the wines produced in the South of France, than those displaying the usual expression of the Gamay. This is the perfect wine for sommeliers or specialist wine shops! The wines are smooth, solid and meaty.
Mets d'accompagnements
This wine pairs well with different pork meats and with white meat in general, as well as feathered game and numerous cheeses. It can be served slightly cool for a red wine (15°C) and, if you prefer your wine slightly more mature, it can be kept back for a few years.