Clos de la Roche Grand Cru (Red)
La Côte de Nuits
- Pinot noir

Grand cru

Durée de conservation
10 to 25 years

Température de service
18° C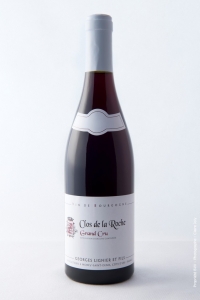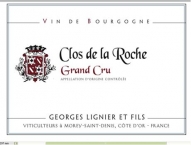 Télécharger le pdf
Send by email
Origine
The last time this appellation area was modified by the National Institute of Certified Appellations dates back to 1971, bringing the land area to 16.9027 hectares split among 30 estates. Each year, some 400 hectolitres or 50,000 bottles are produced. The Lignier estate farms 1.05 hectares, which yield 37 hectolitres annually (5,000 bottles). The vine is cared for using methods that best suit the particular soil and varietal. The soil composition is a clayey limestone with a 30-cm surface cultivation layer lying on bedrock. Pruning follows the simple Guyot cane technique.
Vinification
Vinification of the harvest, 80% of which has been previously destemmed, entails a three-step operation:
- pre-fermentation cold maceration for 3 to 5 days;
- transformation of the must into wine during 4 or 5 days;
- then 3 or 4 more days to complete the extraction of soluble matter (tannins, anthocyanins, etc.) in the right proportions.
After pressing, the new wine is poured directly into 228-litre oak barrels (50% new barrels). During the 18 months of maturation enriched by contact with the wood, racking is performed twice to eliminate the lees. The bottling stage ultimately takes place at the estate under the winegrower's watchful eye.
Notes de dégustation
A consistent red colour characterises this wine. The highly-fruity bouquet hints at walnut, violet and a firm body. The aromas are suggestive of damp wood and cherries. This grand cru is quite often the fullest of the wines produced from the Morey-Saint-Denis appellation area, which instils a more rustic attribute in the tannins and offers greater ageing potential.
Mets d'accompagnements
Game dishes marry extremely well with this prestigious wine. The maturation conditions guarantee a wine with excellent ageing capacity. 10 years after harvest are the minimum required for this Clos de la Roche Grand Cru to reveal its qualities. The very best vintages can easily remain in the cellar 25 years without any risk of having passed their prime, even though a thin layer of deposit will form over time.