Bourgogne (Red)
La Côte Mâconnaise
- Pinot Noir

Régional

Durée de conservation
2 to 7 years

Température de service
15 to 18°C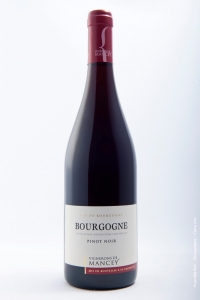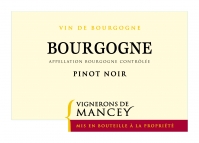 Télécharger le pdf
Send by email
Origine
From all the Cave de Mancey's vineyard slopes in the area. Pinot Noir, referred to as "Pinot Noirien" or "Pinot Beaunois".
Vinification
The grapes are destemmed and go into stainless steel vats. The fermentation creates an increase in temperature, which helps maceration, resulting in the distribution of the colour within the fermenting must. Fermentation lasts 8-10 days during which pumping-over operations are carried out and the temperature constantly monitored. The juice is then drawn off and the stalks and pulp are pressed. The free run and press juices are blended together in certain proportions. Some of the wine is then stored in vats and the remainder goes into barrels. After several rackings, bottling takes place in July.
Notes de dégustation
Pale, light ruby %u200B%u200Bcolour. On the nose, the wine is very expressive and open, releasing aromas of red fruit, such as red currants, cherries, and griotte cherries macerated in alcohol. It is supple on the palate, with nice cherry- stone-like fruit. It is a simple, delicate wine, at a very early stage of its development. Lovely, extremely fresh finish. This is a very easy to drink wine.
Mets d'accompagnements
This wine, underpinned by nice acidity, is very respectful of the dishes it pairs with. This is a perfect wine for those who like fish with red wine (salmon, tuna wrapped in bacon or served with mushrooms) or can be more classically paired with offal sausages with mustard, veal shank or a prime cut of beef with shallots.